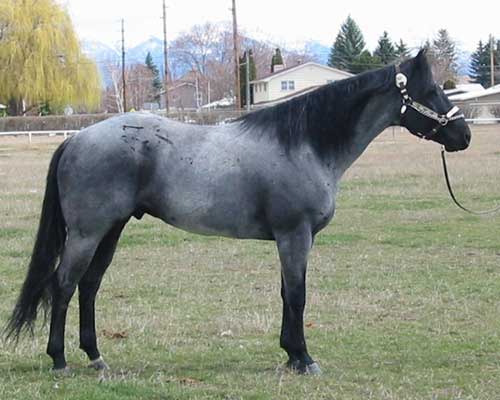 Hancocks Blue Olena is a 1999 blue roan out of Merry Boy Hancock and Olena Dolly. He is double-bred Hancock and a great-grandson of Doc O'Lena, so he has plenty of "cow" in his pedigree. We purchased "Blue" as a yearling in hopes that he'd shape up into a good stud prospect. As of 2007, we haven't been disappointed.
Blue is well-muscled with strong shoulders and hind quarters. He's a powerhouse with a lot of energy, drive, intelligence and a taste for cow. Blue had his early training locally, and competed in sorting and penning.
Blue has been bred to a variety of mares and has consistently produced offspring with nice hips, pretty heads, straight legs, and willing dispositions. We're liking what he sires, and his color percentages are very high. Blue sires a high percentage of blue roans and black foals when bred to black mares. His color percentages drop a little when bred to red mares. Blue has been bred to several of our Freckles Candoo daughters and we've been delighted with the results of this line of breeding. We're certain Blue has a bright future as a competitor, ranch horse, and stud.
Blue stands at Chief Cliff Quarter Horses in Elmo, Montana.